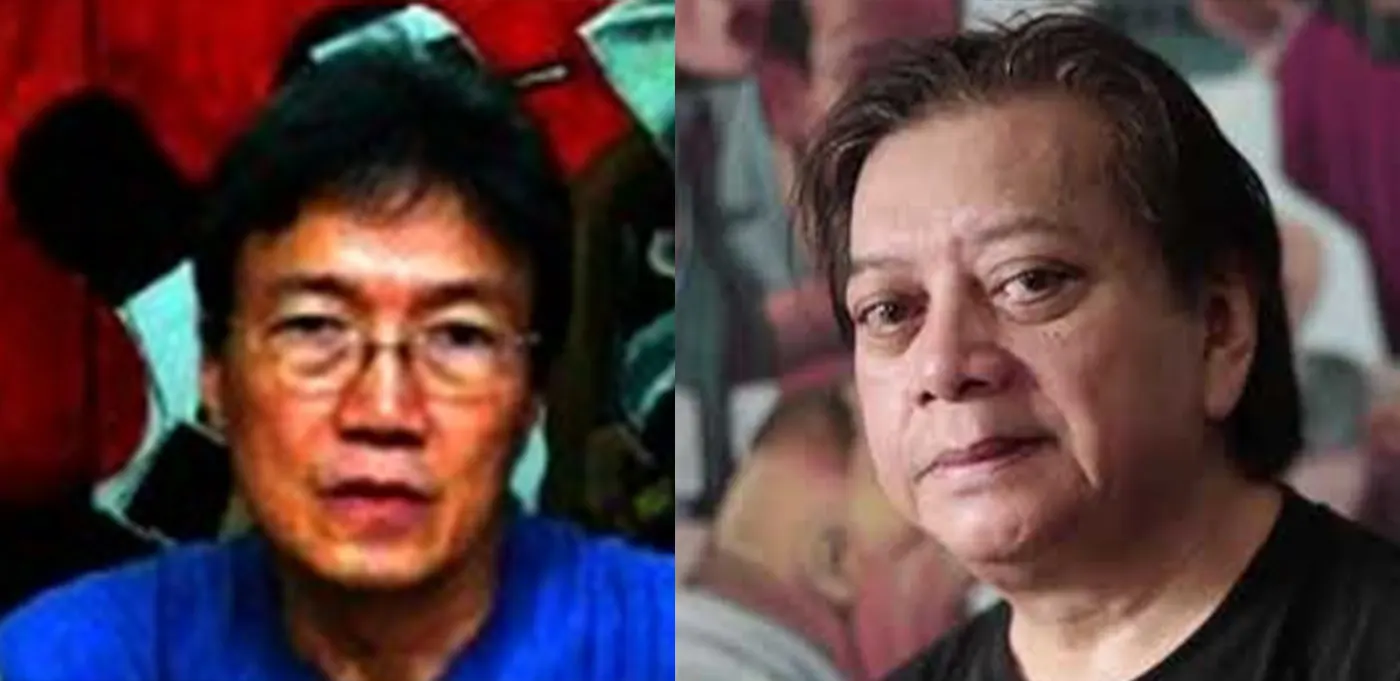 Pablo "Adi" Baens Santos (1943- November 2021)
Leonilo "Neil" O. Doloricon (1957 – July 2021)
Both were visual artists who were important figures boldly representing the social realist movement in the Philippines. Both were leading artists of the Erehwon Art Collective and featured in its coffee table book, "Philippine Social Realists," as well as in other Erehwon publications.
Pablo Baen Santos founded Kaisahan ("to be one") in 1976.  It gathered artists with the goal of revolting for democratic freedom, through art that showed images of the nation's suffering from growing militancy, and from the war and colonization.  Kaisahan was the Philippines' first social realist art movement.
Adi's perspectives of the country's social, economic, cultural and political issues are evident in his artworks.  Among his large murals associated with Erehwon are those on the People Power Revolution.  One of these is on permanent exhibit at the Quezon City Hall lobby, forming part of the Quezon City Mural of History.  The other is one of the Erehwon Center for the Arts' permanent exhibits.
Of the "People Power" artwork, he said:
"The primary concern is to raise the level of that social experience to the level of art in the form of a mural. Therefore, the logic of aesthetics will rule over photographic realism but not over historical facts, in refreshing witnesses and participants of the 'people power' and in imparting their collective experience to future generations.
"I intend to explore images that linger in my mind from that memorable past, as well as classic pictures that hogged media accounts of the 'people power.' I will avoid featuring well-known personalities in order to concentrate on the real heroes of the "revolution"—the people and its sector of youth, religious, soldiers, professionals and media."
Adi's works are on exhibit in galleries and museums here and abroad, including the National Museum of Contemporary Art Korea, in the National Museum of Modern Art in Tokyo, in the National Gallery Singapore and in the Singapore Art Museum.  He has also been written up by the National Heritage Board of Singapore
Adi was as one of the nominees for the inaugural Joseph Balestier Award for the Freedom of Art 2015 jointly organized by Art Stage Singapore and the U.S Embassy in Singapore.
Neil Doloricon was professor and former dean of the University of the Philippines College of Fine Arts.  He is both an artist and cartoonist, with these works depicting politically-aware themes and his perspectives of society's ills.
A pervasive theme of his paintings and illustrations were the struggles of the poor, the farmers and oppressed workers.  He was a champion of the idea that artists are agents of social change. "Brod Neil was one of the pillars of Social Realism movement in the Philippine art scene and was popular for his paintings, murals, and relief prints that depicted the struggles of the masses," to borrow a quotation from his brothers from the UP Artists Circle Fraternity.  His friends and associates regard Neil as a National Democratic activist, a cultural worker, and always, a comrade, quiet in ways, but loud in his artistic representations.
An interview with the UP Philippine Collegian in 1998, when he had just assumed his post as new dean at the UP College of Fine Arts, spoke of how art combined with nationalism can help define who we are as a people and as a culture, and how art is not just a decorative object. To quote Neil's words, as published:
"Art is beyond that—ispiritwal na bagay iyan sa isang lipunan," he said. "Kung ano yung kultura mo, lumalabas yan sa pangangatawan mo. Kung paano mo tinatrato ang sarili mo, ang kapitbahay mo, ang mga kaibigan mo. At kung paano ka tinitingnan ng ibang bansa. Ano yung nakikita nila sa atin? Wala, kundi salamin tayo ng colonization. Kung paano tayo tinatrato ng nangolonya sa atin, ganoon din tayo tinatrato ng mga tao sa ibang bansa. Isang malungkot na bagay ito para sa atin kaya kailangang buhayin ang nasyunalismo."
Doloricon has received many recognitions in his long career as an artist and educator.  He was a member of the Commission on Higher Education's Committee on Arts and Humanities, was a Cultural Center of the Philippines' Gawad Para sa Sining Biswal awardee and a 13 Artists Award recipient (1990). His works have been exhibited in the Philippines and abroad, including the Philippine Art Center in New York.
You may view Erehwon's tributes to them through the following YouTube videos: