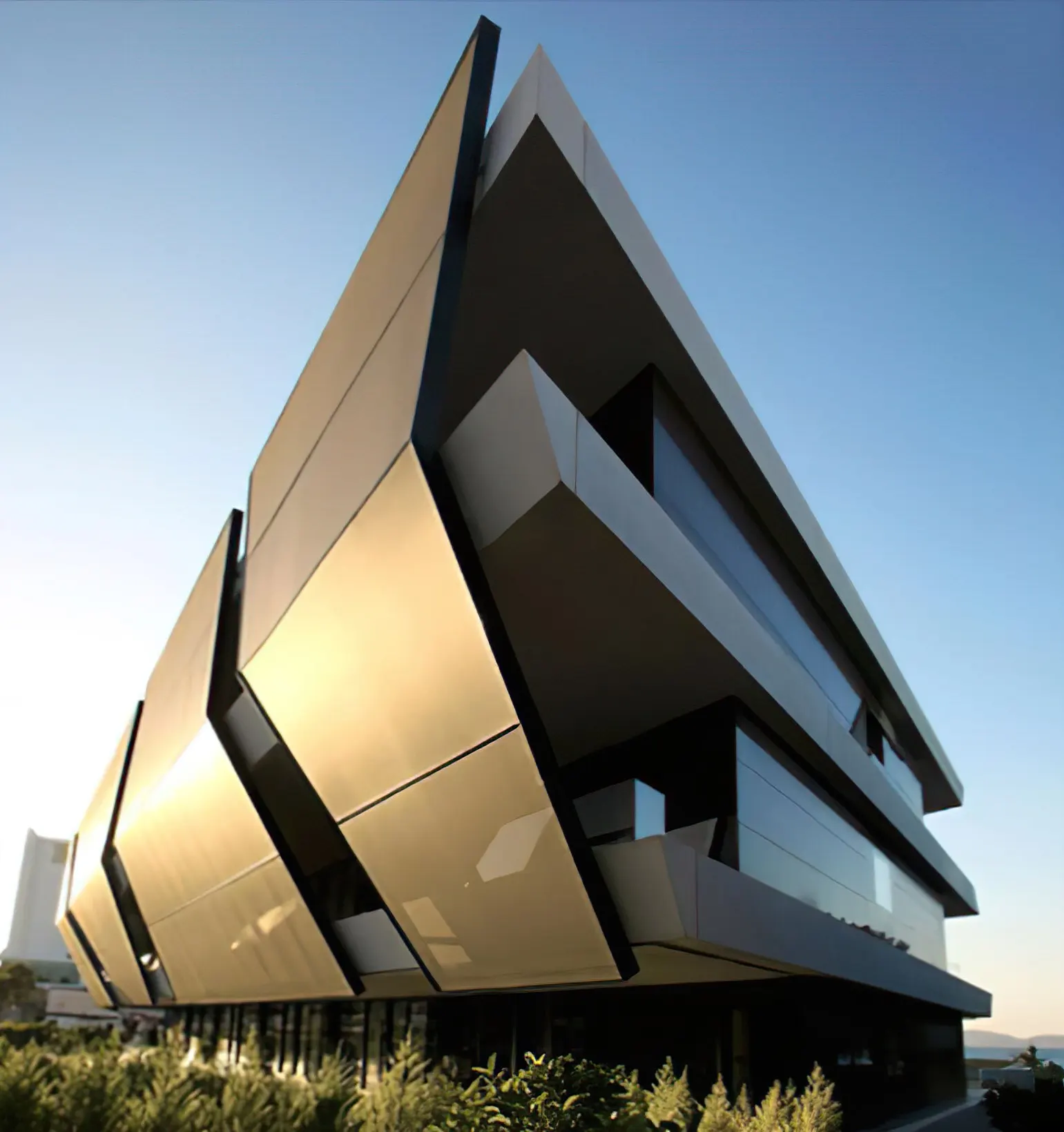 Perspective of the forthcoming museum, from Architect Conrad T. Onglao
(excerpts from "Penman," the column of Mr. Jose "Butch" Dalisay Jr. in the Philippine Star, published on
July 25, 2016)
Have you heard of the American Museum of Philippine Art? Probably not, since it's still something of a pipe dream, but some people on both sides of the Pacific are blowing very hard on their pipes to make it happen. Those people include businessman Raffy Benitez, president of the Quezon City-based Erehwon Arts Center, and University of the Philippines professor and art expert Dr. Reuben Cañete, who developed the idea late 2015, after Erehwon's successful involvement in a binational mural project at Chicago's Field Museum sponsored by the John D. and Catherine T. MacArthur Foundation through Dr. Almira Astudillo-Gilles, a Chicago based Fil-Am writer and cultural advocate.
That positive experience encouraged Raffy and Reuben to conceive of a bigger and more enduring project that would bring Philippine art even closer to Americans—not just the huge and broadly dispersed Filipino community in the US, but the American public at large. Raffy and Reuben noted that the Mexicans and the Chinese, among other immigrant groups in America, both had their art museums, but that Filipinos—among the largest and fastest-growing minorities in America—did not.
Reuben recalled the long tradition of Filipino artists going over to the US to study and to work—such as Guillermo Tolentino, Victorio Edades, and Alfonso de Ossorio, among others—and observed that while strong cultural ties remained between the two countries, the connection was overwhelmingly one-way, with Philippine art (and music and literature, for that matter) being little known and appreciated in the US.
"In this age of globalization, art is now a global commodity that is exhibited and collected by various international venues, such as Art Basel Miami. Philippine Art, both in its historical as well as contemporary manifestations, must now be aggressively promoted in the United States, which is a major area of collection and promotion of global art," Dr. Cañete would say in a concept paper on AMPA.
Karlota I. Contreras-Koterbay, a prizewinning Fil-Am sculptor and Director of the Slocumb Galleries at East Tennessee State University, agrees, writing that "There is a rich and dynamic art practice by Filipino-Americans in the US. However, there is a huge discrepancy in the visibility and recognition with regard to the idea and form of 'Philippine Art'.
"The Philippines is the second-highest Asian country whose citizens migrate to the US. The Filipinos have a long, complex history of immigration and residency in America, yet 'Philippine Art' is not as accessible nor recognizable in popular culture nor in the global art world. This statement does not claim that there is a lack of talent nor creativity; on the contrary, there are thriving communities of artists, art groups, and cultural workers who are making a difference in their respective locales, as well as receiving recognition for their work in the field of arts."
To take the first steps toward turning vision into reality, the American Museum of Philippine Art Foundation, Inc. (AMPAFI) was formally launched on July 12 at the Holiday Inn in Diamond Bar, California, in a day-long meeting attended by a couple of dozen participants from all over the US.
We all realize that this project will take many years, enormous resources, and tremendous effort and optimism to realize. (Being Filipinos, we expect a lot of naysaying, and I've been Raffy's chief buzz killer whenever I think someone needs to pull his feet back to earth, but I have to admire the man's guts and what he's done at Erehwon.  The museum as Raffy and Reuben envisage it is a mini-CCP, with enough spaces for exhibitions and performances (and even classes in Pinoy cooking), and the renowned architect Conrado Onglao was motivated and generous enough to contribute a prospective design for the building. That may be years down the road, but in the meanwhile, AMPAFI is taking early and doable steps toward building a countrywide arts community—a virtual museum, as it were—in cooperation with other groups such as Bernadette Escalona-Cooper's Silicon Valley-based Global Artists' Creative Collaboration for Empowerment (GACCE), whose leaders also attended the launch.