The Erehwon Art Center houses the following facilities which are ideal for events, exhibits, rehearsal spaces, or film production sets: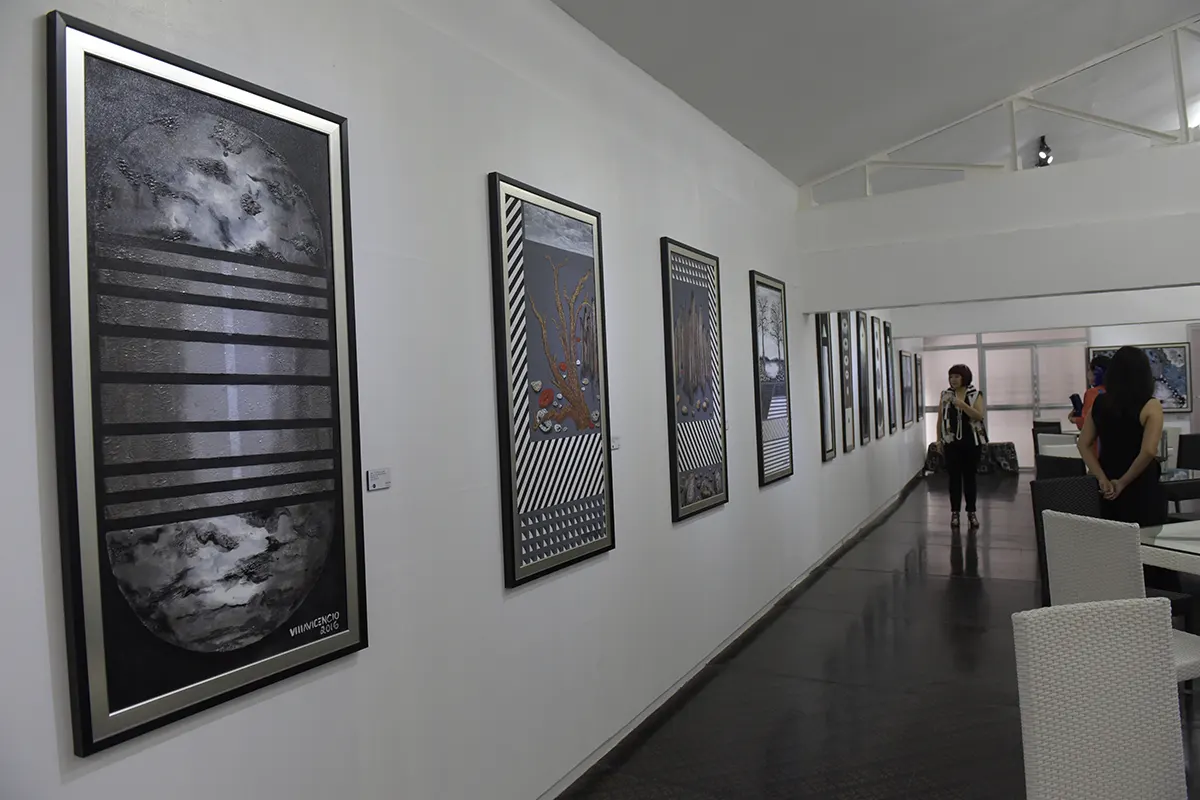 Erehwon Atelier is a two-level exhibit space separate from the Erehwon Art Center building but within its compound.
Level 1 – Situated on the left side of the Atelier, this exhibit space has a huge panel glass door that blends the gallery to the outdoor stage, creating an illusion of extended space. (exhibit wall = 19.22 running meters, floor area = 49.68 sqm)
The second-level gallery offers a bigger and more private exhibit space, and is equipped with flat screen television for your video broadcast needs. (exhibit wall = 33.3 running meters, floor area = 91.65 sqm)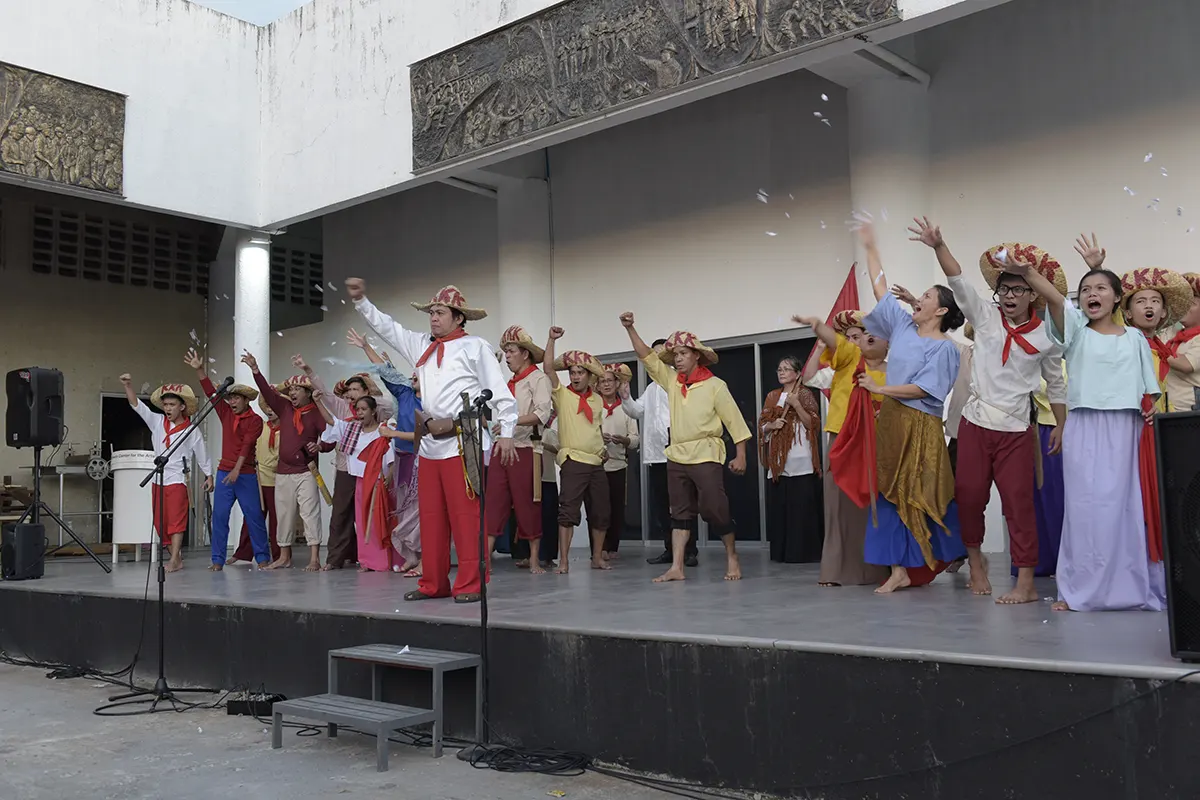 Tanghalang Behn Cervantes is an outdoor performance stage named after film and theatre actor and director, Behn Cervantes.
It faces a quadrangle that provides a large space that can accommodate a 200-seated audience. The stage is equipped with provisions for sound and lighting system for outdoor performance needs. (floor area = 75.35 sqm)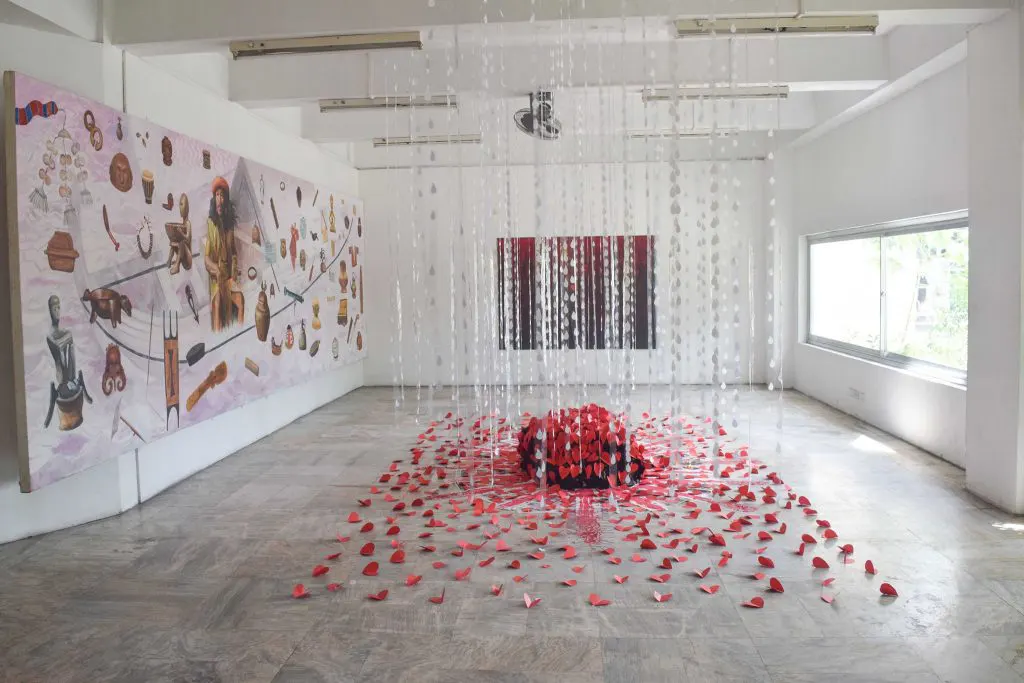 Lobby Gallery is the ground level exhibit area located in the main building.
This space is the most accessible, and offers the highest visitor traffic among Erehwon's exhibit spaces. (exhibit wall = 18 running meters, floor area = 72 sqm)
Foyer refers to the ante-room most commonly used as a "standby" spot, which is also a small exhibit space.
Dance Studio is a professionally designed room with impact-absorbing hardwood floor and wall mirrors, making it ideal for rehearsals and for staging dance productions.
Workshop Hall is most used for workshops and training sessions.
Gallery One displays the semi-permanent exhibit of the Center's art collection, featuring the works of acclaimed Filipino visual artists and sculptors.
Gallery Two displays Erehwon's past exhibit artworks.
(exhibit wall = 30 running meters, floor area = 64.5 sqm)
Among the artworks exhibited is the historical piece "Tagaligtas 44" which is a mural dedicated to the 44 members of the Philippine National Police – Special Action Force (PNP-SAF) who were slain in the controversial Mamasapano operation in 2015.
Gallery Three is a space dedicated for National Artist for Literature, Nick Joaquin, and his memorabilia.
Music Studio is equipped with a grand piano, sound system, and percussion set that can be used for professional music productions and rehearsal requirements.
For some time, it served as the official rehearsal studio of the Metro Manila Concert Orchestra and Erehwon Jazz Orchestra.  (floor area = 216 sqm)
Artist Residence accounts for two accommodation spaces for the Center's Artist Residency Program participants.
These are dormitory-type accommodations that can temporarily house artists in training who need affordable accommodations in Metro Manila.
Library provides a quiet space to read the Center's arts and literature book collection.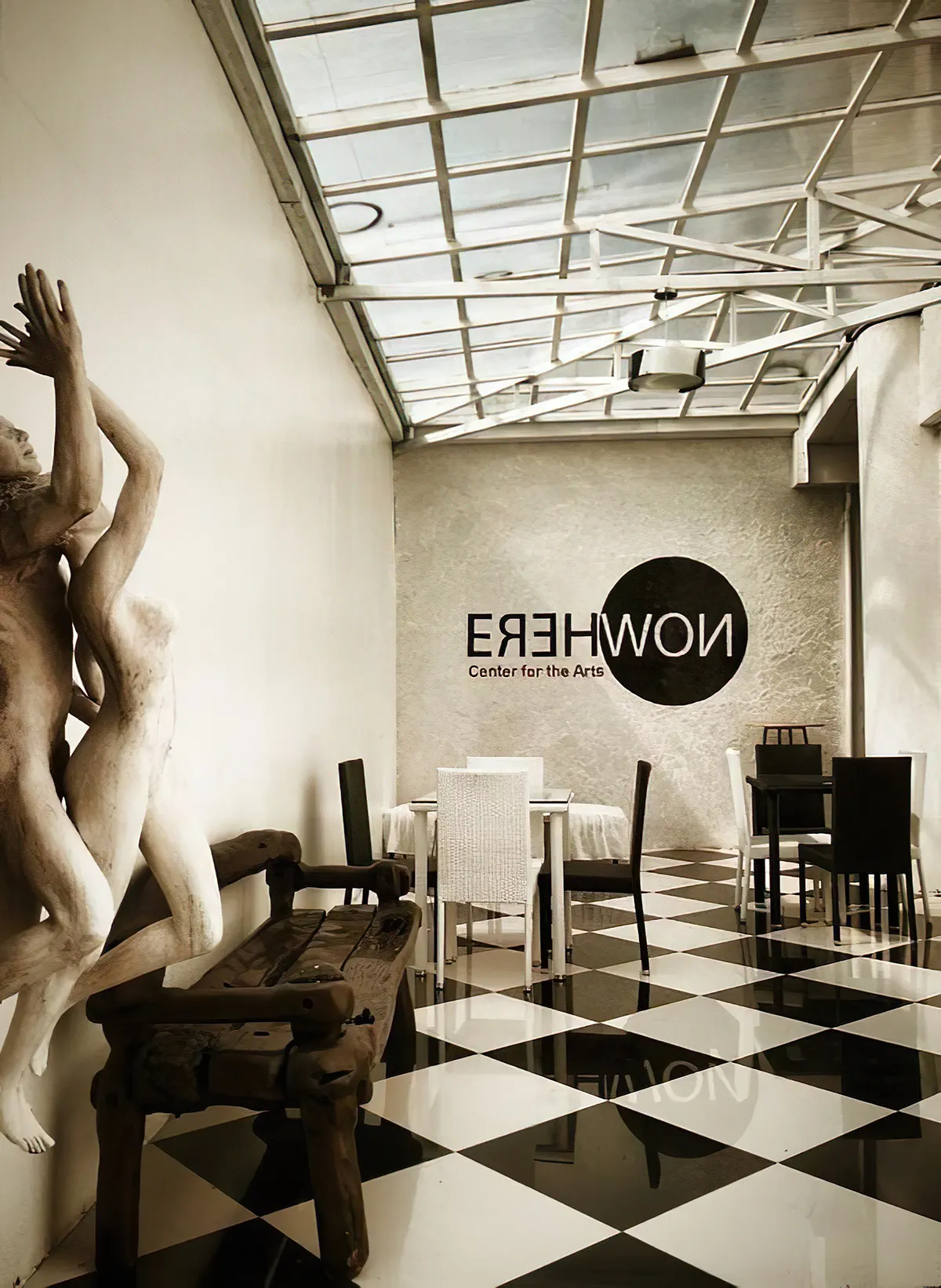 Café and The Roofdeck as artists' convergence area
Erehwon has places to hang out, eat, indulge in some beer, or just have a cup of coffee.
The Erehwon Café opened in 2014, and serves as the informal meeting place of all members and visitors.
The Roofdeck is a newly renovated space for coming together for meetings, an entertainment space, or for simply enjoying the company of artists or would-be artists.  At Roofdeck, you are welcomed by a life-size sculpture of the late Behn Cervantes, artist and activist, whose words gave life to the spirit of Erehwon.  Beside his sculpture is the memorial marker that reminds visitors of his inspirational words about Erehwon. People can socialize amidst the floor-length mural of well-known, experimental artist Leeroy New, and even perform, if the spirit moves you.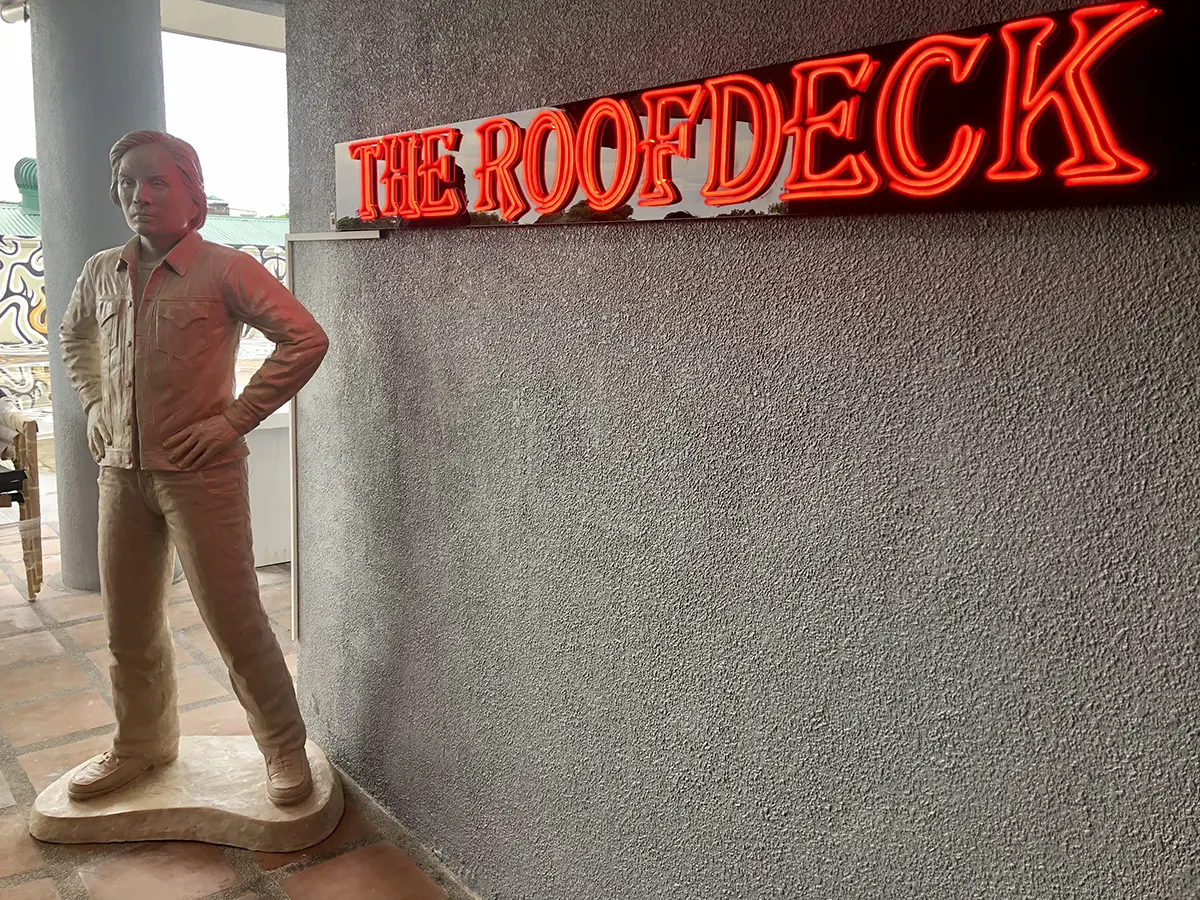 Special privileges for members of the Erehwon Art Council
Members of the Erewhon Art Council are provided a special ID that entitles them to the following privileges at The Roofdeck :
One FREE beer every Friday of the month
Free wifi
Hangout and jam with fellow artists and friends
Just remember:
Come in proper attire: no skimpy clothing, sleep wear, or slippers
Follow all health and safety precautions:  NO FACE MASK, NO FACE SHIELD, NO ENTRY