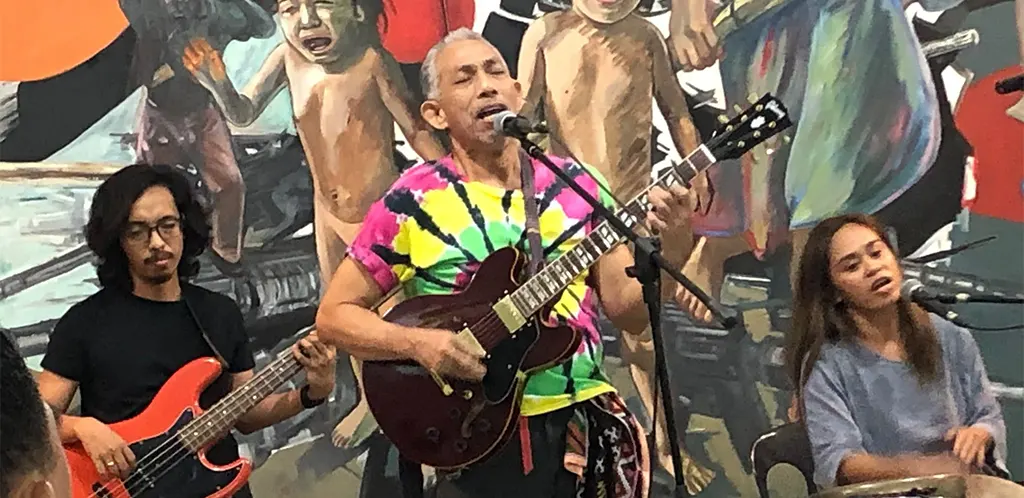 Joey Ayala is a Filipino singer, songwriter and former chairman of the music committee of the National Commission for Culture and the Arts. His music combines the sounds of Filipino ethnic instruments with modern pop music.  He entertained guests with his original songs at a special event at Erehwon Center for the Arts' Behn Cervantes The Roofdeck last August 26, 2022.
Joey is known to use the two-stringed Hegalong of the T'Boli people of Mindanao, the Kubing, the bamboo jaw harp found in various forms throughout the Philippines, and the 8-piece gong set, Kulintang, the melodic gong-rack of the indigenous peoples of the southern regions of the country. He also uses modern instruments in his music, such as the electric guitar, bass guitar, synthesizer/sequencer and drums.
Aside from his strong advocacy for Filipino music, Joey is a determined environmentalist.  He is a recipient of the Fr. Neri Satur Award for Environmental Heroism, "for promoting environmental awareness and arts education from ancestral roots to new artistic routes of musical expression advocating for the protection of the environment and the conservation of natural resources." This is an award of the National Commission for Culture and the Arts and the Department of Education, given in 2009.
He has also been conferred the Benigno S. Aquino, Jr. Award for Social Artistry,  for teaching "young generations through his well-celebrated songs, the essence of communion and community, of compassion and service, and of human dignity. He exemplified through his most ordinary actions what it means to be a man of God and a man for others. His passionate commitment to music in teaching values makes him a genuine model of social artistry."
View the performance of Joey Ayala and his band at erehwonfilms.com.