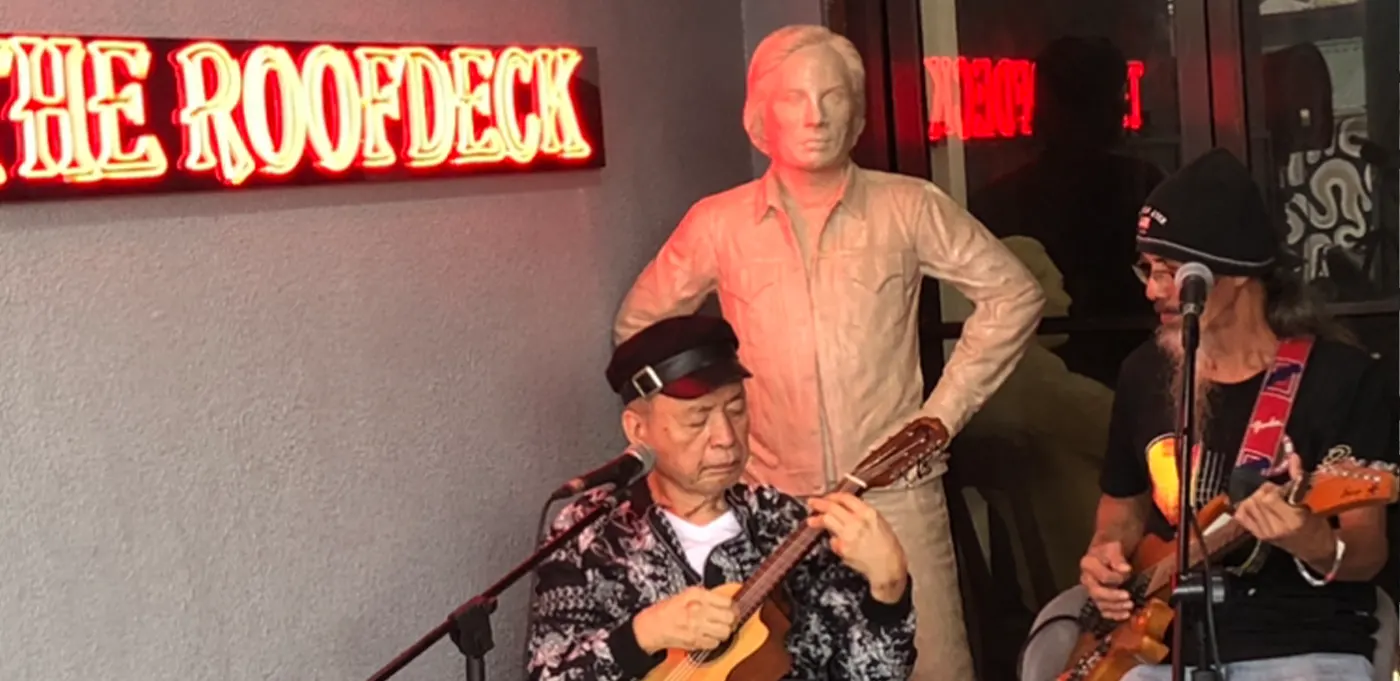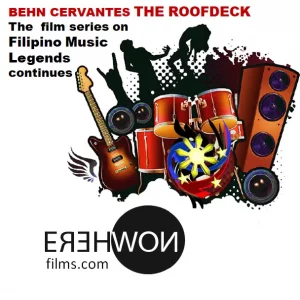 Erehwon Center for the Arts continues its feature on Filipino Music Legends by highlighting Mike Hanopol, another pioneer of rock music in the Philippines.   He is best remembered for his trademark song, "Laki sa Layaw," and the bands, Hagibis, and Juan dela Cruz. In this performance, Mike is accompanied by guitarist Neri Moreto.
"Laki sa Layaw, Jeproks" is his tirade about people who grow up spoiled, being given all they want, never knowing hardship.  He asks, is there hope for people like these? The song is both an admonition of arrogance and a warning on its effect on society.  He tells his audience, let what he has written and sung be a lesson, especially to the youth, particularly to those who are too carefree, who should value the advice from the elders.
Mindful of the creeping of age (he is 75), he says that this may be his last public performance.  But also, maybe not.  He remembers his rock music contemporaries, Pepe Smith and Wally Gonzales, who have gone to the great beyond, and he is thankful that he still around, with time to share the many stories that has livened up his life.
Hagibis, oftened likened to the Village People, was a Filipino disco group best known for their macho image, on-stage costumes, and macho songs about women. It was formed by Mike with entertainment producer Vic del Rosario.   Mike was the band's mentor and songwriter.
Mike was a former bass guitarist for the Juan de la Cruz Band.  He was also the founder of the Asian pop band known as Tribu Kemistri, a group of musicians which play rock, ethnic rhythms, and new age music.
During his career as a musician, Hanopol produced 20 albums, three of which became Gold prize awardees while another three received the Aliw Awards.  Mike was a "frequent show-opener" for concerts such as Asian performances by Western rock artists Pink Floyd and Led Zeppelin.
Despite being a rock-and-roll figure, Hanopol's experience in the seminary influenced him to compose song lyrics based on Bible passages. Examples are the first two stanzas for Mike's song "Balong Malalim" ("Deep Well") which were based on the Book of John.  Some of the songs in Hanopol's latest album Lagablab, under Warner Music Philippines, were based on the Book of Psalms (Psalm 75:3–16 and Psalm 37:1–6) and the Ten Commandments.  Hanopol's Lagablab is a "10-track guitar album" that features "inspiring and original compositions" aimed at imparting life's lessons to the younger generation of Filipinos. Lagablab is an assortment of jazz, rock, hip-hop, fusion, and ballad music. The rap song in the album was performed with Filipino rapper Francis Magalona.