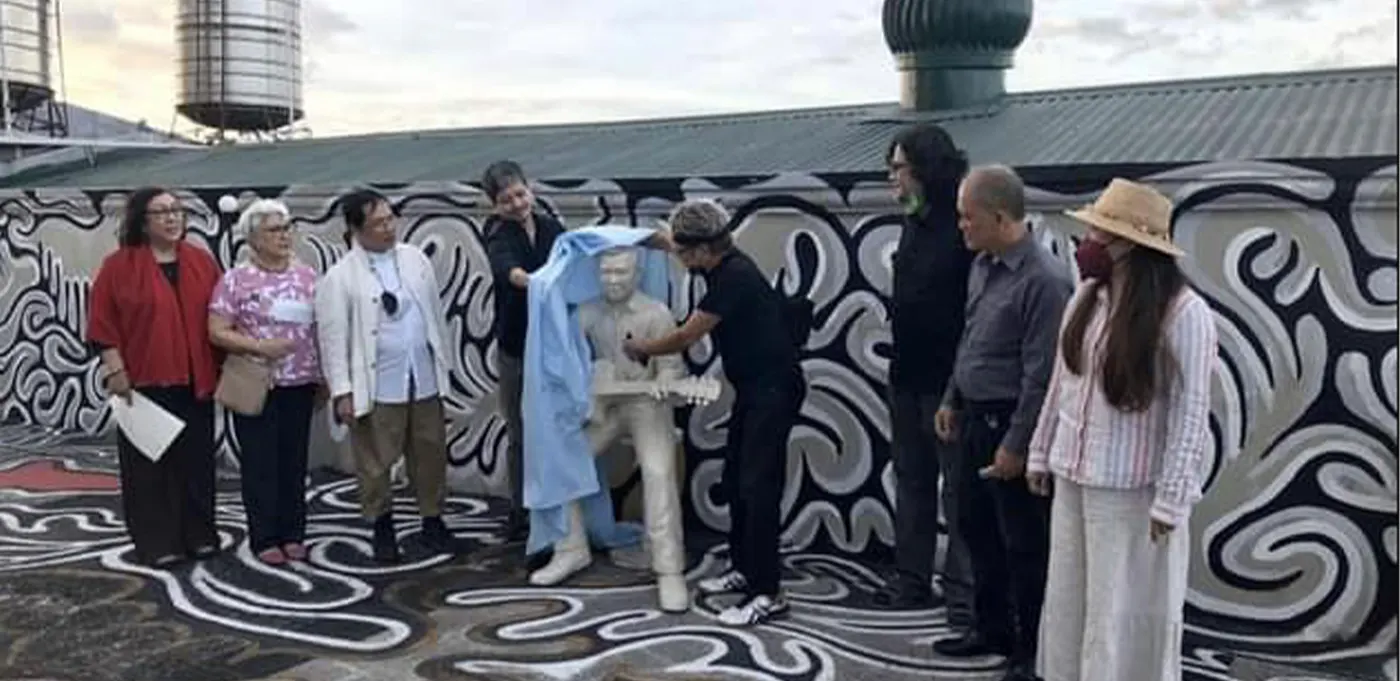 The life-sized sculpture of the late folk rock icon, Heber Bartolome, is unveiled by his brother Jesse and his other relatives, at the roofdeck of Erehwon Center for the Arts.  The sculpture was done by artist Jose "Al" Giroy, who has done various other sculptures for Erehwon.   Looking on are artist Emlyn Santos, art restorer June Dalisay, Chief Cultural Consultant Dr. Anton Juan, sculptor Al Giroy, and senatorial aspirant Agnes Bailen.
At Behn Cervante The Roofdeck, a life-sized sculpture of folk rock icon Heber Bartolome silently plays his guitar at the center stage of the open-air venue, surrounded by the floor painting of artist Leeroy New.  The image is by sculptor Jose "Al" Giroy, a protege of National Artist Napoleon Abueva.  Al Giroy has done the two other life-size sculptures at the Center's top floor:  those of theater pioneer Behn Cervantes who stands in welcome at the entrance to the entertainment venue, and of National Artist for Literature Nick Joaquin who is caught toasting his favorite bottle of beer.
Heber's sculpture was unveiled by his family and friends, led by brother Jesse.  Heber's last public performance was at The Roofdeck last September 2021, as he started off Erehwon's Filipino Music Legends Series with his rendering of his iconic and long enduring song, "Tayo'y Mga Pinoy."  In 2019, multi-talented Heber staged his solo art exhibit at Erehwon, which was opened by National Artist Bienvenido Lumbera.  Heber, and his organization of musicians and composers known as MUSIKA, were very active members of the Erehwon Arts Council.