Professor Anton Juan, an internationally awarded poet, playwright, director, and faculty emeritus, has joined Erehwon Center for the Arts as its Chief Cultural Consultant.
Erehwon laid out fitting welcome ceremonies last February 11, 2022,  at its open-air venue called Behn Cervantes The Roofdeck.  The evening was highlighted by musical numbers rendered by Erehwon Arts Council talents.  The Erehwon Youth Rondalla, made up of senior high school students, played a rousing, "What a Wonderful World,"  a song popularized by the famous American jazz icon Louie Armstrong.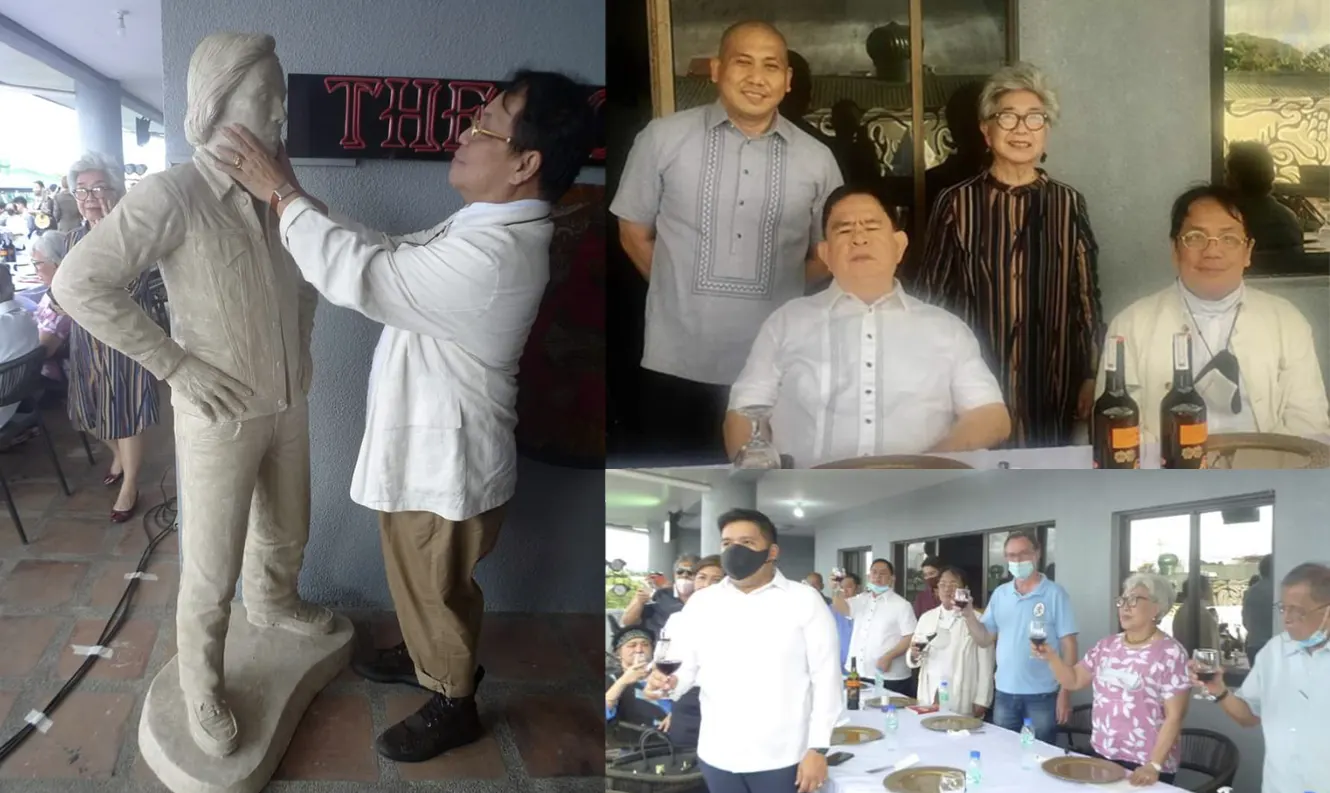 (left) Anton Juan and Behn Cervantes.  Internationally celebrated playwright Professor Anton Juan admires the life-size sculpture of his long-time friend and mentor Behn Cervantes, that stands proud at the roofeck of the Erehwon Center for the Arts.  Erehwon founder, Rafael Benitez dedicated the center's top floor entertainment area to the memory of Behn Cervantes, who gave inspiration to the center's key principles of promoting convergence, collaboration, and camaraderie among artists. (upper right) Erehwon Art Foundation trustee Jasper Viloria, Erehwon founder Rafael Benitez, publicist Neny Regina with Dr. Anton Juan, to the Erehwon Center for the Arts. (lower right) Erehwon officials and guests offer a toast to Erehwon Center for the Arts' next 10 years of operation, starting with a welcome to its new Chief Cultural Consultant, celebrated playwright and theater director Dr. Anton Juan. Erehwon founder Rafael Benitez joins the toast with guests who included art critic and artist Cid Reyes, art restorer June Dalisay, Foundation president Jesus Varela, artist Bai Jamila Tamano, Quezon City District 3 Action Officer Thomas de Castro, Quezon City Tourism head Teresa Tirona, and Erehwon consultant Jose Cabazor.
Baritones, tenors and sopranos then filled the night with heart-felt rendering of famous movie sound track hits from Les Miserable, Man of La Mancha, West Side Story, and Hercules.   Opera singers Raymond Roldan of the Fides Cuyugan Asencio Institute of Music and Arts (FCAIMA), and the PASIPO vocal ensemble composed of Jane Wee, Jose Javato, Rovic Solomo, were accompanied by pianist Andrew Bryan Sapigao.  A special request from Professor Juan was the song, "Mutya  ng Pasig," which was sung by Jane Wee.
Dr. Juan is a Professor and Theatre Director at the University of Notre Dame. He completed his Ph.D. in Semiotics at the Kapodistrian and Panhellenic University of Athens. To honor his contributions to the arts, Dr. Juan has been knighted twice by the French government, receiving the Chevalier de l'Ordre des Arts et Lettres in 1992 and the Chevalier de l'Ordre National de Merit in 2002.  He received the Alexander Onassis International Award for Theatre (Playwriting), and the Special Jury Prize for Screenplay from the CineManila International Film Festival.
Beyond his work at Notre Dame, Dr. Juan is also the founding Artistic Director of the Step of Angels Theatre in Athens, Greece and was the Director-General of Dulaang UP, University of the Philippines, where he has taught at the Departments of Speech Communication and Theatre Arts, English and Comparative Literature, and European Languages. He was also the Fellow for Drama at the Creative Writing Center of UP.